---
RHODODENDRON of the MONTH.
A PICTURE TO BRIGHTEN YOUR DAY!
---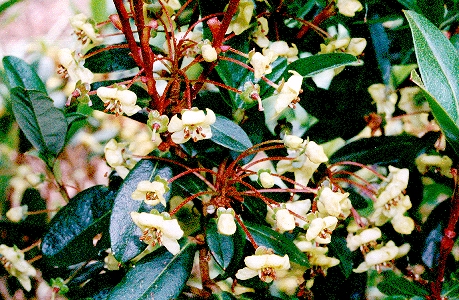 Rhododendron MICROMERES
---
Rhododendron MICROMERES photographed at ARDUAINE GARDENS, Argyll, Scotland, 1997.
This is one of 360 photographs of Rhododendrons taken at ARDUAINE GARDENS during the 1997 season.
If you have enjoyed this picture you can E-m@il me for information regarding future developments with this Rhododendron page.
The SCOTTISH RHODODENDRON SOCIETY PAGE
Visit the FRENCH RHODODENDRON PAGES Société Bretonne du Rhododendron
Pay a visit to CRARAE GARDENS Loch Fyne, Argyll
To see if the Rhododendrons are available in the US or Canada, either contact FOREVER IN BLOOM for seed, plant lists and other interesting horticultural information or see AESTHETIC GARDENS. or E-m@il the AMERICAN RHODODENDRON SOCIETY for information and membership details.
Visit EXBURY GARDENS on the south coast of the England, the home of the Rothschild collection of Rhododendrons.
---
---
If you want to return to the HOME PAGE, just select this Icon

---