---
SCOTTISH RHODODENDRON SOCIETY PAGE.
A PICTURE TO BRIGHTEN YOUR DAY!
---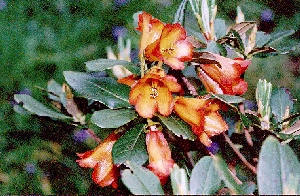 ---
Membership of THE SCOTTISH RHODODENDRON SOCIETY brings the following privileges.
Your own copy of the SRS Newsletter 3 times a year.
Free admission to the SRS Annual Show
Free entry to ARDUAINE GARDENS, Argyll.
Free advice from experts on RHODODENDRONS and AZALEAS.
Specialist garden visits and tours.
Gardening books at competitive prices.
---
For the future Programme of events E-m@il for more information.
Details of SRS membership from:-
John Hammond, Secretary/Treasurer,SRS., 51 Sandy Lane, Prestwich, MANCHESTER, M25 8RD, United Kingdom.
Or you can E-m@il David Starck for membership information.
---