---
SURVIVORS.
A WW2 survival story of the U-Boat U188 and two of her victims.
---
During World War Two it was the job of the British Merchant Marine to carry supplies of food and equipmento all theatres of war - not just from America to Europe - but all around the world where fighting was taking place. It was not only an essential service but an extremely hazardous one.
It was the job of the Kriegsmarine (German Submarine Service) to stop them, and their role in the North Atlantic in attempting this is well documented.
This however, is the story of one U.Boat - U.188 - that had the duel task of sinking cargo shipping in the Arabian Sea and bringing home a valuable cargo from the far east.
It is also the story of the survival of two British crewmen, whose cargo boats were sunk by U.188 in the Arabian Sea and a German radio officer, a survivor of the sinking of the CHARLOTTE SCHLIEMANN.
When reading this narrative, readers, who may not be familiar with World War Two, should bear in mind that the age of the the persons involved varied between late teens and early 20's. It is doubtful if any of the submarine's crew were as old as 25.
Of the British and German survivors - the oldest was just 20 - what thoughts went through their minds, when in the middle of the night, the world about them exploded and they found themselves struggling in the water. It appears not to have been fear - but survival was the order of the day - and survive they did against all the odds.
The crew of U.188 - what was was their state of mind - as they struggled to return to Europe with their valuable cargo, so desperately needed - unable to communicate, in a submarine that was short of essential supplies, mechanically failing and severely damaged in a storm rounding the Cape of Good Hope. Every way they turned, danger lurked and the news they were hearing from home in the last days of their journey must have been a considerable worry - but they struggled on, and they too - survived.
---

U188 an IX-C class submarinr.
---
DEDICATION
This narrative - written on the 50th Anniversary of the events in 1944 - is dedicated to the courage and fortitude of the British, Lascar and German seamen, who sailed the Atlantic and Indian Oceans, and the Arabian Sea - both those who survived and those who perished.
In Particular:
Lieutenant-Commander Ziegfried Luedden, Captain of the U.188, for his log of the cruise. In 1945, after the war had ended, Captain Luedden was unfortunately killed in a dockside accident at Kiel.
Peter A. Rucklidge, 3rd Mate on the SS FORT La MAUNE. He provided his account of survival in the lifeboats after the sinking of the SS FORT La MAUNE and was later 'Mentioned in Dispatches' for his bravery. This was Peter's second sinking. In 1942 whilst on Arctic Convoy PQ16, his ship the SS LOWTHER CASTLE was torpedoed and sunk. For his actions at that time he was also 'Mentioned in Dispatches'. Peter left the merchant marine after the war and joined the Irish Lights. He now lives in retirement in Lanarkshire, Scotland.
Norman Gibson, apprentice seaman on the SS FORT BUCKINGHAM. He provided his account of survival in the Arabian Sea on a small raft, with little in the way of provisions or water. Norman is now retired and lives in Essex, England.
Alfred Moer, radio officer of the CHARLOTTE SCHLIEMANN for his harrowing account of survival for 27 days in a lifeboat in the Indian Ocean.
---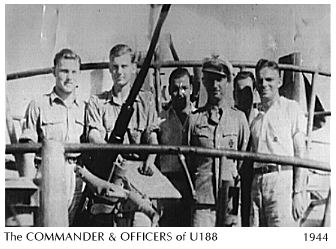 ---
SURVIVORS: THE STORY OF U.188 and her sinking of the: SS FORT BUCKINGHAM and the SS FORT La MAUNE.
---
This is an account of the German submarine U.188, an IX-C class designed for long range operations, commanded by Lieutenant-Commander Luedden, and the crews of the SS FORT BUCKINGHAM and SS FORT La MAUNE, both Canadian built cargo vessels of 8000 Tons, who survived against all odds after being torpedoed by U.188 in the Arabian Sea, at the end of January 1944.

During March 1943 the SS FORT La MAUNE, commanded by Captain Binns, left the UK enroute for Alexandria, then on to Syracuse to load supplies for the British troops in Bari (Italy). On the 30th June 1943, U.188 sailed from Lorient with a full crew and 22 torpedos. In six months time, these two boats were to encounter each other, thousands of miles away, in the early hours of the morning, in the Arabian Sea. This is their story.

It was a time of intense activity in the Bay of Biscay, but both boats were lucky and escaped attack, although U.188 twice sighted aircraft. U.188 was in the company of another U.Boat, U.155 and on the 12th July 1943 they parted company, U.188 being ordered to take fuel from U.487, which was then about 400 miles west of Teneriffe, while U.155 continued to southward. On the 13th July however, the supply U.Boat U.487 was sunk by aircraft from USS CORE, which approached while the watch were engaged in unpacking a bale which had come drifting by - that bale might almost rank as a 'secret weapon' for part of its contents, which had been placed on the control room floor, burst into flames when the first bombs were dropped and the Captain and gun crew had to grope their way through dense smoke to reach the bridge.

The surprise was so great and the destruction of the boat so speedy that no signal was sent to U.Boat Control, and it was not until U.188 had spent nearly a week waiting at the rendezvous that the loss of U.487 was presumed.

On the 18th July U.Boat Control ordered U.188 to rejoin U.155, which was by now about 500 miles to the southward. U.188 caught up with U.155 and obtained sufficient fuel and provisions to round the Cape of Good Hope, which was given a wide berth, and reached a rendezvous with the German tanker 'BRAKE' to the south-east of Madagascar.

Six U.Boats were expected, five German and one Italian. The Germans arrived and after three days, were still waiting for the Italian AMMIRAGLIO CAGNI to appear. Instead of the Italian submarine, came the news of the surrender of Italy, and the rendezvous, now feared to be compromised was hastily abandoned.

U.188 now set course for the south-east of Arabia. On her way she passed close to Mauritius and reconnoitred the harbour of Port Louis. The captain found no shipping there, probably somewhat to his relief, as the directions for entering the harbour were discovered to be incorrect!

From Mauritius his course took him between the Admiralty and the Seychelles Islands to the eastward of Mogadishu, where on the 21st September, he came upon his first target, the Liberty ship CORNELIA P. SPENCER. Despite the fierce gunfire that greeted him when he surfaced, he attacked successfully and sank the ship. He recorded in his log a few hours later the appearance of a flying boat, which he presumed had come to search for survivors.

A few days later U.188 reached her operational area, after a passage from Lorient lasting exactly three months. Luedden found the conditions most difficult. Sometimes a mist obscured the horizon and made it hard to distinguish sea from sky. The extreme phosphorescence of the mirror calm sea made him fearful of detection every time he fired a torpedo. The hot sticky climate affected the crew who, despite their long passage, had not yet become acclimatized to the tropics. Machinery was affected almost as much as men. The diesels, were beginning to suffer from excessive diesel exhaust temperatures which caused large amounts of lubricating oil to be used (this was to become a continuing problem for the rest of the cruise) and could only be kept going by constant attention. Also all the torpedos loaded at Lorient ran erratically and the cause of their failure could not be remedied.

On 27th September U.188, sighted off Masirah Bay, a convoy of ten ships - seven of them tankers - proceeding towards Aden. She pursued it for sixteen hours and then the diesels broke down and she had to abandon the chase. Next day she found a convoy sailing up the Arabian coast, and was in a good attacking position, but this time the torpedos failed. Six were fired and six were heard exploding at their 'end of run'. Then an aircraft appeared and drove her off before she could try her luck again.

Captain Luedden then decided to move up the coast and enter the Gulf of Oman, where he could expect to find particularly worth-while targets in the tankers bound to and from Abadan.

In six days he sighted and attacked four, but not one was sunk. For his first attack he had to enter in his log 'Electric torpedo exploded after 8 minutes 26 seconds - attacking distance 800 meters'. The next two entries record the appearance of surface craft and aircraft, no doubt explaining why four days elapsed between his first and second attacks.

On the evening of the 5th October he torpedoed the 10,000 Ton Norwegian tanker, BRITANNIA and claimed her sunk, but she was in ballast and, though hit amidships, safely reached Bandar Abbas.

Two more tankers were attacked, the brief entries in the log describe the actions eloquently enough:
---
6-10-43 - 21.32 hrs. Tanker - Type CANDOLITE - 310 - 12 sea miles. 2 air torpedoes - tanker turned into track (strong Phosphorescence). - 22.39 hrs. Tanker - two electric torpedoes - end of run detonations.
---
On the 8th October Luedden was ordered to leave patrol and head for Penang for repairs. U.533, which had been with him at the great rendezvous with the German tanker BRAKE in September, apparently took over his area in the Gulf of Oman. U.533's operations on the Arabian coast were to be even more unprofitable than those of U.188 and her stay in the Gulf of Oman ended after ten days with her destruction by aircraft of 244 Squadron. This action had an amazing sequel, when the only survivor of U.533 finding himself in the water, and spurred on by the fear of sharks swam 20 miles in 28 hours until he reached Khor-Fakkam on the Muscat coast!
During U.188's passage to Penang, the only incident was an unsuccessful attack on an escort vessel. On the 30th October U.188 ended a patrol of 121 days, during which time she had covered over 19,000 miles - 925 of them submerged. Repairs took several weeks so it was not until 12th December 1943 that U.188 left for Singapore, which Luedden dutifully called by its temporary Japanese name 'Shonan'.
There the boat took on board 22 torpedos and loaded a valuable cargo - 100 Tons of tin, 24,000 lbs of rubber, 1000 lbs of Quinine, four chests of Opium, and nearly 1,500 sacks of Wolfram packed in rubber and weighing about 40,000 lbs. The cargo was consigned to a firm in Berlin, the manifest being dated 29th December 1943.
U.188 returned to Penang and sailed from there on the 9th January 1944 on her second patrol. Its success, compared with that of the first patrol, shows how much acclimatization means, in operations in tropical waters. On his first patrol Luedden had sunk one ship and damaged another. On his second he would send to the bottom seven ships, a total tonnage of nearly 50,000 Tons and a like number of small sailing craft.
U.188's voyage was to take her south of Ceylon, through the 9 Channel in the Laccadive Islands and then North to search for allied shipping in the Gulf of Aden and off the Island of Socotra. Then the passage back to Europe, where her valuable cargo was awaited in her besieged homeland. It is ironic that the British Admiralty had only recently suspended convoys in the Gulf of Aden and the Arabian Sea area, on the assumption that U Boat activity there was minimal.
U.188 had just cleared the channel through the Laccadive Islands and, at dawn on the 20th January, spotted smoke on the horizon bearing 310 almost dead ahead of her own course. A quarter of an hour later, she could see top masts coming over the horizon.
At about 10.00 hrs she dived and closed the vessel at full speed. Captain Luedden observed through his periscope and recorded in his log that as this merchantman was very well armed, caution would be necessary. This was to be his first kill of the homeward cruise and from 2,500 meters he fired a spread of three torpedos. The attack was a failure, the distance was too great and the torpedo firing mechanism obsolete. The ship she attacked was the FORT BUCKINGHAM, in ballast and bound from Bombay to Buenos Aires with a stop at Durban for bunkers. Her crew were completely unaware of the attack even though they had doubled the look-outs.
The FORT BUCKINGHAM had left Bombay on the evening of Monday 17th January 1944 under the command of Captain McLeod DSC, a veteran of the Russian convoys. He had been instructed to restrict speed to ten knots so that scheduled daily rendezvous positions could be kept. On board were 89 men including British officers, Lascar crew and British D.E.M.S. and M.A.A. gunners. She was well armed for a merchant ship - one high angle 12 pounder, one four inch, one Bofors, six Oerlikons and finally rockets, (as observed by Captain Luedden and entered in his log)
Bitterly disappointed with this failure the crew then found that U.188, submerged, could not keep up with her prey, and to maintain contact had to surface and run on her diesels. However, all was not well, as her diesel engines were again defective and she could barely keep up, let alone overtake he target. Little by little however, she shortened the distance, and with the onset of darkness, and her engineers struggling for a few more revs, she found herself in a position about two miles off the port quarter of the FORT BUCKINGHAM.
Still struggling with her high diesel exhaust temperature, the chief engineer reported to the captain that he could no longer maintain speed and the chase would have to be abandoned.
It was quite usual for unescorted allied ships to make dramatic changes of course after dark to shake off any shadowing U.Boats. Suddenly Captain Luedden could not believe his luck. As he was about to abandon his day long chase he took one last look and saw the FORT BUCKINGHAM make a 30 turn to port. This brought the FORT BUCKINGHAM immediately closer and into a firing position. This was his last chance and he quickly turned and fired two torpedos from his stern tubes.
Just before midnight, after a run of 177 seconds, both torpedos struck the FORT BUCKINGHAM on her port side and she sank in about five minutes.
Whilst sinking, she dragged down all her boats and the survivors had to take to rafts. The chief officer, the only officer to survive, said after his sixteen day ordeal adrift, that his experience had reduced his weight by 30 lbs, but also cleared up a bout of malaria from which he had been suffering!
For an account of the suffering and subsequent survival of some of the crew we must now turn to the narrative of a British apprentice seaman, a crewman aboard the FORT BUCKINGHAM, who had just completed one year at sea - Norman Gibson:
Norman's cabin was on the boat deck on the port side of the ship. He had made a cup of tea but did not bother to eat two rock buns that the cook had left for a night cap. How he was to regret this later!
He writes, 'fast asleep in my bunk, I was shaken awake by an almighty explosion. As the noise subsided I could hear the tremendous rush of water filling up No 4 hold where I had been working the previous day. All lights were extinguished so I fumbled around my cabin and found a torch. Putting on battle dress, shoes and lifejacket, I made my way to the starboard boat deck, my allotted boat station.
On arrival I met the 3rd Engineer, a man named Coverdale. Between us we cleared the lifeboat falls ready for lowering the boat. The 3rd Mate - Willoughby - was shouting across from the bridge in an attempt to prevent lifeboats being lowered until our Captain had decided on the best course of action. At that point we were not sinking and were able to defend ourselves. Coverdale then went back to his cabin to get a lifejacket - he was never seen again. Various members of the crew now began to collect on the boat deck.
I briefly returned to my cabin and on my return, I found that the Lascar seamen had filled the lifeboat causing it to tilt. The davit guy rope had become jammed under the rudder pintle. The solution was to cut the guy rope free, and as I had a knife I set off with haste to the main deck to do this. When I arrived, I found the main deck under water - how could a ship sink so quickly in the space of three to four minutes!
Taffy Jones a cool headed gunner, and I ran to the bows in order to let down a raft. On the way the bows began to rise up and when we reached the bridge, the deck was so steep we could not go on. We climbed onto the bulwark and prepared to jump. As the ship slipped below the waves we made our leap into the water. She went down vertically with tremendous rending noises. To our surprise we were soon back on the surface, just in time to see the bow, with its 12 pounder gun disappearing a few feet away from us. It was all over in less than six minutes. Fortunately, apart from the two of us, some other crew members had also been swept clear.
What went through my mind? - how warm the water was! Although I had not been sucked down with the ship, I was swimming 500 miles away from land with no lifeboat. Nevertheless I was alive, survived the explosion and was not alone - I felt a feeling of euphoria, - and Taffy seemed to know just what to do all the time.
Having seen a light from a raft some way off, we set about reaching it. We swam via a floating door which offered rest, and I picked up a food container on the way which was later to be a valuable supplement to our rations. Taffy and I climbed onto the raft together, and were joined by two Lascar seamen. We extinguished the light in case we were seen and shot at by the submarine, which we assumed to be Japanese. During the night, other seamen were spotted and some swapping of survivors took place to even up the numbers between the rafts. At first light we counted five rafts in all, with a total of 51 survivors. There were 11 men on my raft. Only one officer had survived, all others including the Captain having been lost.
We doubted that a radio message had been sent before the sinking'. (Captain Luedden's log appears to confirm this and shows that he thought the survivors had little hope.)
Gradually the sun rose, the sea was blue and coloured fish surrounded us. It all seemed unreal - a beautiful and peaceful world but no sign of search aircraft! However, we had plenty to do and busied ourselves making the rafts ship shape. Two rafts drifted away that day and we had no further contact with them. The remaining three were tied together and protective awnings were made from canvas. We even had a mast and a semblance of a sail, coloured red. We hoped it would attract attention.
No one thought about rations that first day. We were thirsty of course but the pangs of hunger only started to develop later. We devised a look out rota with one person always standing, holding on to the mast and scanning the horizon. Tempers began to rise on the first day, communication with the Lascars broke down and normal instructions were not comprehended. The wind got up to about force 3 and during the night we had to cut the connections between the three rafts. We huddled together as best we could and as the night got colder we shared out our few clothes in order to make the best of our first night adrift.
Spirits rose at daybreak as we still hoped for a search plane. After 24 hrs of fasting, hunger raised its head and we opened our provisions. An empty tin about the size of a tobacco container was used for our water rations, one tin at dawn and another at dusk. This ration was not varied however thirsty or irritable we became.
Sharks appeared around us from time to time, causing all other fish to temporarily disappear. We always kept extremely quiet when they were around and did not dangle our feet over the side of the raft! Taffy continuously dangled a line and hook into the water in the hope of catching fish. Various lures and bait were tried, all without success.
The days that followed were ones of utter desolation and deprivation. The north-east monsoon was blowing almost continuously and we were never really comfortable - the sea often awash over the raft. We collected some rainwater in the sail but it was barely enough to wash out the salt deposited there. Our plight was pretty desperate and there was little we could do to help ourselves. Our sail was inadequate for sailing towards the coast of Africa or the Seychelles and we had no charts, compass or sextant. Our raft measured approximately 10 feet by 6 feet with insufficient space on it for all of us to lie down at the same time.
It now became clear that no distress signal had been sent and as we were not due in Durban for a fortnight, it seemed likely that we would not be missed for some time.
We dozed from time to time and conversation was limited to rations' time. I soon concluded that survival would depend on psychological health. I felt that I was hallucinating - dreams that I had were pleasant, however. This was how the days passed and our diligence at watch keeping tended to lapse.
On the evening of the eleventh day, we sighted a puff of smoke on the horizon. We didn't need much to lift our spirits and we never saw more than the smoke but as the light began to fade we let off several rockets in the hope that they would be seen. It was a forlorn hope and to no avail but we were desperate. We reinforced our renewed spirits by allocating ourselves a double ration of water.
Unknown to us, elsewhere things were happening. The smoke we had seen was from the SS KONGSDAL. She had found one of the two rafts which had separated from us on the first day. The ship carried on but the following message was sent around East India Command.
1st February 1944. Survivors reported to have been picked up by SS KONGSDAL 400 miles west of Kelai. Stated their ship was the SS FORT BUCKINGHAM torpedoed 20th January and four liferafts still missing. Three aircraft are to go to Kelai and carry out search for these rafts and, if found, supplies are to be dropped'.
Three Catalina aircraft were immediately despatched from Koggala, Ceylon, to Kelai to begin a search. Unfortunately tragedy befell one of the Catalinas, AJ160. On taking off to search on the 13th February, she had risen to about 50 feet, and was unable to climb any further. She crashed into the sea where her depth charges exploded killing the entire crew.
The search having begun, unknown to us, for we had heard nothing of searching aircraft, we had some luck - maybe it was a good omen - we caught a shark and were able to light a small fire on the raft and boil it. This was the first fish caught in 13 days.
Yet another day dawned bright with very little wind but there was a considerable swell. We were all weak and listless - suddenly, one of us claimed that he heard aero engines - sure enough we all looked and spotted a distant aircraft - but had she seen us? It was 4.30 in the afternoon, and we all tried to signal the aircraft using empty ration tins to reflect the sun - we even shouted! We were reassured as the aircraft appeared to be losing height - and then it happened, a Catalina - No W8406 - flew past at what seemed like only 50 feet. We saw a crew member in the port blister waving, and an Aldis lamp was flashed but we were all to elated too read what it said.
We discovered later that this aircraft on sighting us had sent the following signal to its base:
'MTB1 WQM-15 D.R. 7 26' North 66 16' East Circling two rafts with red sails approx. 3 miles apart 10 - 15 people on each'
We watched spellbound as the 'Cat' circled and took photographs and waved. Then we were awestruck - the aircraft flew away and we saw the detonation of six depth charges. Surely there was not a U.Boat lurking nearby? Apparently not, as the aircraft lowered its floats and a landing was attempted. However, because of the swell the landing had to be abandoned - her engines were opened up, height was gained and she then flew straight at us dropping a Thornaby Bag within an arms length of the raft. We lifted it aboard and found inside, water bottles, a Very pistol and cartridges, cigarettes, chocolate, biscuits and barley sugar. The Catalina continued to fly around us until 19.00 hrs and then flew away, ( back to her base at Kelai.) That night we ate extravagantly.
Early on the 15th day another Catalina arrived overhead and dropped another Thornaby Bag, but it fell wide and we did not fancy swimming for it. Unknown to us the Norwegian tanker MV ORA was sailing within range of our position and had reached a point some 300 miles to our north. She was requested by signal to alter course and look for our rafts, reporting immediately if she picked up survivors.
The next day our good spirits began to turn to apprehension as it was now two days since being spotted and we appeared to be no nearer rescue. We thought we heard a faint drone of engines but saw nothing. Panic was starting to set in.
What we did not know was that a Catalina had sighted the MV ORA and an empty raft to the North of the ORA's track. This Catalina then found us and circled round to lead the MV ORA to our position. At 16.00 hours we saw a ship coming over the horizon. It was indeed the MV ORA and after 16 days adrift we were all taken on board. We then discovered that the MV ORA was bound for Australia with a cargo of aviation fuel. In the gathering dusk the ship moved on and picked up survivors from a total of three rafts previously located by the Catalina.
Later in the afternoon the destroyer HMS REDOUBT rendezvoused with the MV ORA and we were transferred aboard, to be taken to Bombay. Unfortunately before landing in Bombay, five of the Lascars died so the final count of survivors from the FORT BUCKINGHAM was forty-six.'
---
Do you wish to CONTINUE with this narrative or return to the SELECTION PAGE
---