INVERARAY
---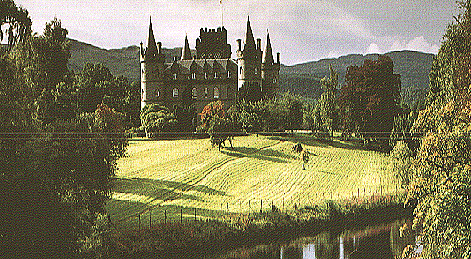 INVERARAY CASTLE looking from the road bridge.
---
INVERARAY, is the old administrative seat of the county of ARGYLL. It is also the home of the DUKE of ARGYLL and his home INVERARAY CASTLE is open to the public throughout the summer months.
---
INVERARAY is an excellent example of early town planning, being a planned layout as opposed to the usual small town sprawl. It was origionally the seat of justice for Argyll and contains an interesting court and jail house. This is built on the shore of Loch Fyne and the jail house contains the enclosed courtyard where hangings took place. The court and jail are open to the public and mock trials are staged throughout the summer months.
---
Return to MID ARGYLL PAGE