LAZEY BEAVER'S CRUISE
---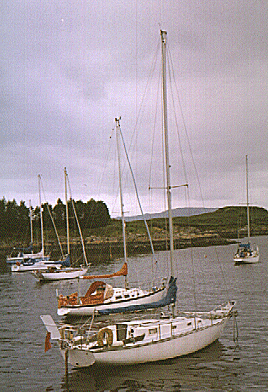 This is my yacht LAZY BEAVER, in the foreground of the picture, moored at CRINAN 7 miles from my home in MID ARGYLL. She and I cruise the WESTERN ISLES during the summer months taking the photographs and writing what you see on these pages. LAZY BEAVER is an 8.7 meter long keeled sloop, displacing 7.3 tons designed by Karl Alberg and built by Cape Dory Yachts, West Bridgewater, Massachusetts, USA.
---
If you would like to cruise with me just navigate yourself through my pages
---
DO YOU want more information on MID ARGYLL or would you like a POTTED HISTORY of sailing in the Scottish Hebrides. Maybe you would like to visit the Islands of SOAY or maybe ERISKAY or CANNA Have FUN!
---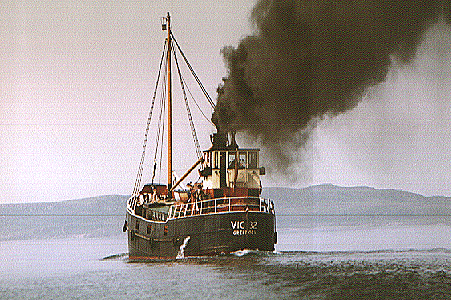 The West Highland PUFFER VIC 32 leaving CRINAN and heading for TOBERMORY. The VIC 32 is the last working steam Puffer on the coasts of Scotland. It used to carry coal and provisions from Glasgow to the people of the Inner Hebridean Islands, but now it's used to take visitors on trips round the Firths of Clyde and Lorne, working out of CRINAN and ARDRISHAIG, both of which are sea gateways from the CRINAN canal.
---
If you would like to continue your cruise in WORDS ONLY choose now!
---
To end your cruise and return to the HOME PAGE select this icon

---